This is a sponsored post written by me on behalf of Char-Broil for IZEA. All opinions are 100% mine.
I'm so excited for the spring and summer months because it means more time outside and more evenings grilling with family and friends.  We grill out at least once a week if not more and 90% of the time we have someone over.  For our family and friends, our house is known as the place to stop on Saturday night if you want a bite to eat and hang out for a bit.
Dinner time is the one time we're together as a family, so we do our best to make it as memorable as possible.  Which is why we start grilling as soon as the weather allows.  
Grilling makes family time lasts that much longer – dads grilling, kids are jumping on the trampoline, and lucky mom gets to run back and forth to make sure everyone has everything they need, and the kids are being good.  Which is why I'm excited to tell you about Char-Broils New Kettleman 22.5" Charcoal Grill, it's the perfect centerpiece for your family grilling experiences. 
Do you want to know something crazy?  It's been more than 65 years since Char-Broil brought the first charcoals grill to the market.  As many of you are away, Char-Broil has done amazing things over the years by introducing an outstanding series of innovations that we now consider standard among the modern grills.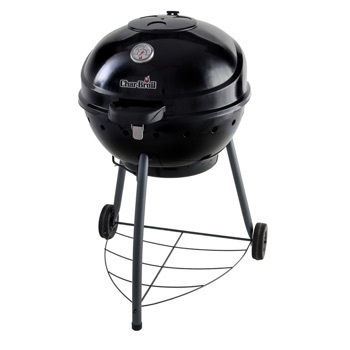 Char-Broil wants to make our family cookouts, camping trips, and gatherings even more enjoyable for those of us who LOVE to barbecue. 
Char-Broils New Kettleman 22.5" Charcoal Grill (MSRP $139)
Have you heard about the New Kettleman 22.5" Charcoal Grill?  From the sounds of it Char-Broil out did themselves, yet again.  Check this out all the great features this updated and improved for kettle-style grill that is even more efficient and easier to use grill has –
Temperature Control – I love the super-sized cool to touch damper on the Char-Broils New Kettleman 22.5" Charcoal Grill lid, which makes heat management easy.  Ther is events around the body of the kettle to allow the air to feed the fire from all sides.  It provides an even heat for the cooking surface.
Flare-Up Control – A porcelain coated no-fall-through grate allows charcoal flavor through while keeping flames away from food. Wood chips can be thrown on the great and small foods like shrimp or asparagus will never fall into the fire.
Charcoal Control – Yepie, this bad boy is designed to grill twice as many burgers.
Ash Control – Who doesn't want a grill with Ash Control?  This grill has a slide-in porcelain coated ashtray that's tight against the grill to make cleanup and maintain easily. 
Stability Control – What's not to love about the wide stance, easy mobility, heavy-gauge steel legs add stability. There's a bottom shelf, which doubles as a holder for the grill's cooking grate and other accessories. 
Hinged Latching Lid – The Kettleman also has a hinged latching lid; it will never need to touch the ground while you're grilling which makes things easier than before.
Price – This impressive grill can be purchased for only $139.00 from Lowes or Charbroil.com.
You can grab The NEW Char-Broil Kettleman Grill from your local Lowes, by visiting Charbroil.com and learn more about the Kettleman grill by watching the below video.